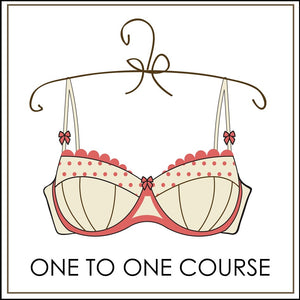 Our One to One Bra Fitting Course is suitable if you prefer one to one training outside of the joint courses we offer.  Our unique bra fitting training method is a proven technique that will help you to fit accurately and consistently. Established since 2006, Lindsey Brown developed this bra fitting method. Our bra fitting course is the World Leader in teaching Bra Fitting without a Tape Measure.
The One to One bra fitting course will have 3 models for you to practice your bra fitting skills in the afternoon session.  The one to one bra fitting course will follow the sme structure as the one day group bra fitting course. 
Cost £588 per person - inclusive £490 plus £98 UK VAT 
Choose your dates in the drop down list
UK can choose to pay with KLARNA.
Please refer to our location page for bra fitting course location and details 
From Bra Fitting Specialists to Bra Fitting newcomers wanting to offer Bra Fitting Advice or provide a professional Bra Fitting Service. Our One Day Bra Fitting Course run by Lindsey Brown is the most established and well renowned Bra Fitting Training Course available to existing Bra Fitters and new Bra Fitters worldwide.
As the courses are held in the UK, we are obliged to charge UK VAT which is included in the  course fee. Please choose your date from the drop down list.
Please note that once booked, cancellations are not refunded as out time, the conference room and models will be paid for. 
We can happily add you to another course date, if suddenly you are unable to attend.
Once booked, we will confirm your booking by email.
If you prefer to book over the phone please call our office and we will be happy to process your payment.
Please read our

 

terms and conditions

 

here
if you have any questions, please refer to the

 

FAQ page

 

or call us.